STUN GUNS UNDER $45.00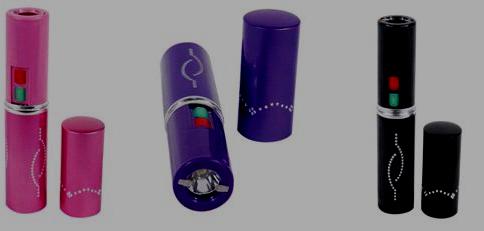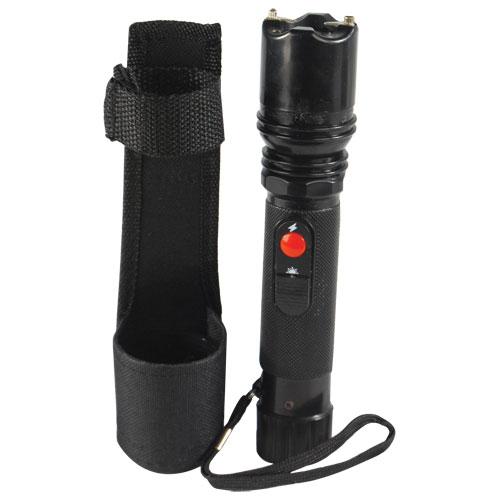 Should the attacker be touching you, the current will NOT pass to your body! They use high voltage and low amperage to temporarily disable an attacker for several minutes. The stun gun does not rely on pain for results. The energy stored in the gun is dumped into the attacker's muscles causing them to do a great deal of work rapidly. This rapid work cycle instantly depletes the attacker's blood sugar by converting it to lactic acid. In short, he is unable to produce energy for his muscles, and his body is unable to function properly.
Click here to go the homepage
STUN MASTER®
A leading brand in the stun gun industry since 1994 making it a true icon in the world of self-defense. Maintaining this level of success for so many years in such a competitive field is the finest recommendation any product could be given.
Features and accessories
The Stun Master stun guns on this page have safety switches and wrist straps.
They use two 9-volt Energizer Eveready Alkaline batteries except for the 100,000 volt.
Stun Master stun guns have a Lifetime Warranty.
STUN MASTER STUN GUNS AND ACCESSORIES
---
STUN MASTER 100,000 VOLT STUN GUN
It is 4.5 Inches long!
SM-100S: $22.00
---
STUN MASTER 300,000 VOLT STUN GUN
It is 6 Inches long!
SM-300S: $35.00
Choose which you like the best From the drop down menu below
We recommend the 9-VOLT ENERGIZER EVEREADY ALKALINE BATTERY for the Stun Master stun guns. Other batteries will not work as well. Warranty will only be honored if Energizer Eveready Batteries are used. You do not have to purchase them from us, but you do have to use them.

B-1: $3.00
Nylon & Velcro Stun Gun
Holster For SM-100S
SG-N1: $7.00

---
Nylon & Velcro Stun Gun
Holster For SM-300S
SG-N2 $7.00
The Z-FORCE STUN GUNS
They offer a unique, slim style. Makes it easier to grip and use for those with smaller hands.
They come with
wrist strap and safety switch

A LIFETIME WARRANTY

The ZF-ST (300,000 volts) uses two 9-volt batteries


The ZF-SM (100,000 volts) uses one 9-volt battery.
100,000 Volts 5.5 inches
ZF-SM: $25.00
---
Nylon Holster for ZF-SM
SG-N3 $7.00
---
300,000 Volts 6.5 inches
ZF-ST: $35.00
---
Nylon and Velcro Stun Gun Holster for ZF-ST
SG-N2 $7.00
---
OTHER STUN MASTER® STUN GUNS
Stun Master 3,000,000 volt lipstick stun gun with flashlight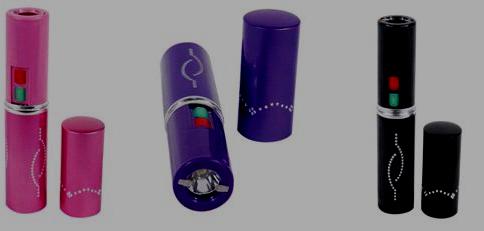 The Stun Master 3,000,000 volt lipstick stun gun with flashlight is secretly disguised in a decorative tube of lipstick. Its innovative design makes it one of the coolest things we have added to our product line in recent years. Its small size makes this stun gun unique and super portable. It's only 5" tall, and whether you're carrying an oversized purse or an evening clutch, this stun gun goes wherever you go... for your safety, convenience, and "peace of mind." This little beauty is powered by a built-in rechargeable battery and includes an integrated charger. Under the cap there are 2 buttons: one for the bright flashlight and one for the stun gun. The compact dimensions are 5" x 1" and this baby will really surprise the "heck" out of the poor slob who messes with the lady carrying this. Comes in Pink, Black and Purple. Choose which you would like from the drop doiwn menu below
D4SLIPSTICKPK: $25.00
STUN MASTER
3.5 MILLION Volt RECHARGEABLE

STUN
GUN with FLASHLIGHT
This is a brand new, ultra thin stun gun with a
mean bite. It's about the size of a small electric shaver and comfortably
fits in small hands. The safety switch is located on the side of
the stun gun and has three positions: off, flashlight only and stun
gun only. The activating switch is the round, red button just below
the flashlight.
This

stun gun

has a built-in nickel-cadmium rechargeable battery
and comes with an easy to use integrated charger. Simply plug the
charger into the stun gun and then into an electrical outlet. The LED
charge light will turn on. The stun gun may have a small charge
when it arrives but you will need to charge it for 4 hours. After the
initial charge and long periods of inactivity we recommend recharging
the stun gun for 2 hours. Dimensions 5 1/8" x 1 3/8" x 1 1/8"
SM-FLR $39.95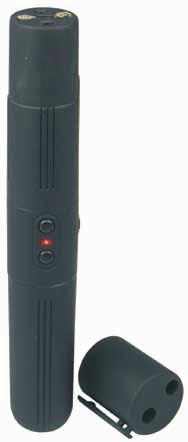 STUN MASTER 1.2 MILLION Volt RECHARGEABLE PEN STUN GUN with FLASHLIGHT
With this stun gun it is is like you are carrying a lightning bolt in your pocket. It's compact and sleek design make this stun gun extremely portable and easy to use. The sound of this mini stick is enough to stop an attacker in his tracks!

Safety Cap & Switch

prevents accidental discharge. You must remove the cap, turn the switch to on and press the trigger button.


Powerful LED Flashlight

provides light when you need it and

can be used with safety cap on.




Built-in Rechargeable Battery

eliminates the need to buy batteries. Integrated charger included. Includes FREE Nylon Holster with Belt Loop
SM-PEN: $39.95
THE RUNT
THE RUNT is easily concealable, and virtually undetectable in the hand of a woman or a man. What your attacker doesn't see will drop him like a roach who has ingested a little too much Black Flag. The Runt uses newcutting edge micro-technology to deliver super powered protection from apalm sized paladin.
You can carry the Runt in your hand or pocket.

If you would like to wear it like a pager there is a heavy duty nylon belt loop holster included.

Batteries included.
This unit is perfect for women of all ages, and works for men as well. Safety on/off switch. LIFETIME WARRANTY.
2.5 Million Volts

RUNT-25: $39.95
Click on the picture of the item that you like most and be taken directly to that page
Also, take advantage of our Gift Certificates below!
Click on the "Buy Gift Certificate" logo, choose the ammount that you would like to add and anytime within the next 18 months you can redeem it! Just another way Days For Music and Safety wants to help keep you and your loved ones SAFE!