RECORDING DEVICES

AND COVERT PRODUCTS
The MINI GPS TRACKER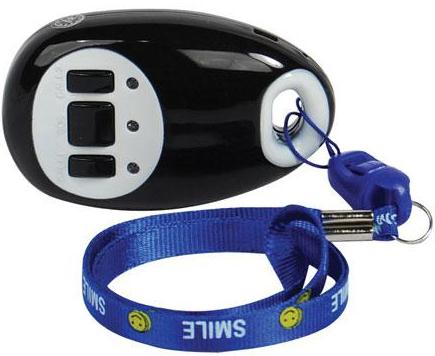 The Mini GPS Tracker works based on an existing GSM /GPRS network and GPS satellites, this tracker is a small and powerful tracking device that is developed for personal positioning, pet monitoring, vehicle, security etc. Not only transmitting the longitude and latitude coordinate to your cell phone by text message (SMS), but also transmitting the longitude and latitude coordinate to your PC and display the location using specific mapping software. The Mini GPS Tracker is a tracking device with built-in GPS and GSM/GPRS technology in compact size. It can be used for anti-theft of the vehicle/heavy equipment, protecting children, older loved ones, pets and personnel management etc.
Product Description
All you need to do to activate is get your cell phone company to add a number to your service and send you a sim card for the new number. You will use this number and sim card to communicate with your tracker. The tracker is easy to set up by texting all your settings to the device. You may also use the software to make changes if needed.
When you want to find out where the unit is all you have to do is call or text it then it will text you a link that will give you the speed the device is traveling and with show you on a map where the unit is. The Mini GPS tracker has a call in feature that allows you to call the unit and listen to anything
within 8 feet of the device.
Features:
Real-time locating and tracking: locate and track by SMS or in the tracking software
Geo-fence function: It will alarm if it breaches the restricted area
SOS function: It sends a help message if SOS button is pressed
Speeding alarm: It will alarm if it is speeding
Low-battery alarm: It will alarm if the battery is low.
Specification:
Dimension: 2 ¾ x 1 ¾ x ¾

Weight/: 40g

Network: GSM/GPRS

Band: 900 / 1800 MHz or 850/900/1800/1900Mhz

GPS chip: SIRF3 chip

GPS sensitivity:-159dBm

GPS accuracy: 5-20m

Cold start: 42 sec.

Warm starts: 35 sec.

Hot start: 1 sec.

Battery: Chargeable 3.7V 800mAh battery

Accessories: Charger 1pcs Cable 1pcs Instructions 1pcs
D4SGPS-Mini: $159.95
The Mini
Telephone Recorder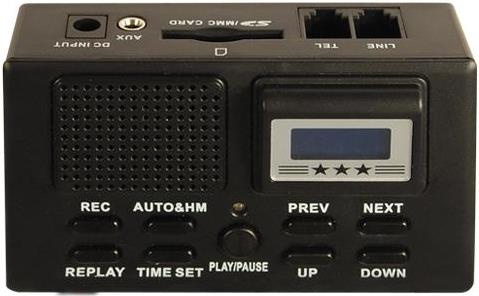 The Mini Telephone Recorder is a small, easy-to-use audio recording device that lets you record phone calls. Plug the Mini Telephone Recorder directly into your phone jack to record any phone conversation. It has a built-in speaker with adjustable volume for playback. The device easily fits next to your home or office phone letting you discreetly record a phone call without drawing extra attention.
FEATURES:
Manual recordings (press button to start recording) or automatic recordings (start when a phone call begins)
Records high quality WAV files to SD card
Manage recordings in real time
Record and playback calls directly from this device
Up to 560 hours of recording on a 8 GB SD Card
All calls are time/date stamped to let you quickly skim through recorded phone calls
automatically overwrites earliest recorded phone calls to make space for new recordings
PLEASE NOTE:
The Mini Telephone Recorder Pro can not be connected between a digital phone and a wall-jack. It must be connected between a digital phone and the handset of your phone to convert a digital signal to analog. The handset option can be used to record a phone call on a digital phone line. You can not use this device to covertly record a phone call on a digital phone- the handset must be connected to the phone and will be clearly visible.
SPECIFICATIONS:
Recording Format= SD Card
Power Supply= Battery and AC Adapter
No Computer Required, Connects directly to analog line or to digital/IP telephone handset cords
Automatic start
stop and record with Rapid search and playback controls
LCD displays for all call information
time and date stored

Dimensions= 2.5" × 4"
INCLUDES:
Mini Telephone Recorder
8 GB SD Card
Replaceable 2 LR44 Button-Cell Batteries
AC Power Adapter
Telephone Cord
User Manual
D4SMTR: $69.99