A Better View of the P2P 720P HD 1.0Mega Pan/Tilt WIFI Alarm System
Scroll down past all nine pictures for the typed listed of features

which this system offers!
Click on any picture below to go back to the Deluxe Home Alarm Systems Page and Place Your Order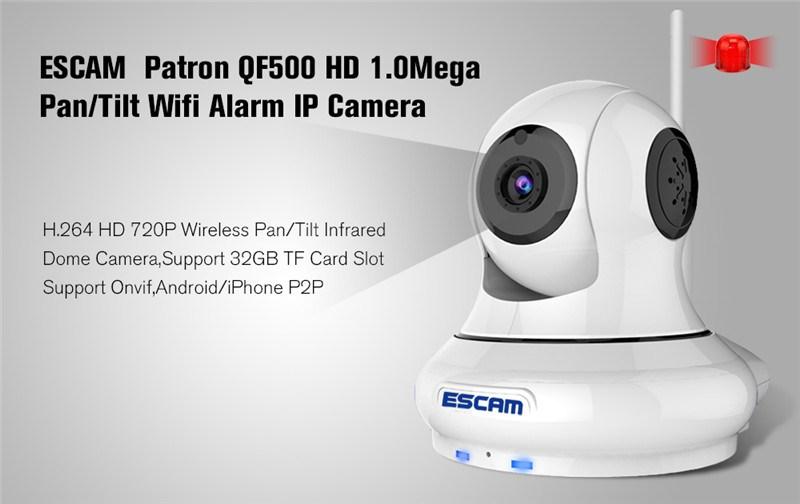 Specs and Features:
System:
System security: Account, password authority management
DDNS: No need DDNS, support dynamic IP
Mobile view: HD mobile view, dedicated software for Iphone, Android (IOS4.3,Android OS 2.3 above)
Local memory: Supports up to 32G TF Card, loop recording
P2P: Plug & Play technology. 99% penetration rate. Only three steps to view image.
Server cluster: Global PnP smart server cluster applied with high stability
UID Technology: UID scan technology applied, easy to operate, and highly confidential.
Video
Compression Format: H.264 , 1.0 megapixel
Frame rate: 1~30fps
Resolution: 720P(1280 x 720) / VGA (640 x 480) / QVGA(320 x 240)
image adjustment: light intensity,contrast ratio,saturation level are adjustable.
Image sensor: 1/4 CMOS
Minimum Illumination: 2.5Lux( color mode), 0.3Lux (B/W mode)
SNR: ≥39dB
Electronic shutter: 1/50s(1/60s) -1/100, 000s
CMOS: Support AWB, AGC, BLC
Lens/Viewing Angle: 3.6mm @F1.4 / 56.14˚
Nightvision
IR-CUT: Dual IR-CUT Filter
Effect: 11pcs 850nmΦ5mm IR LED, IR Distance : 10m
Audio
Effect: AMR/32kbps
Input: 1 Channel Line in -48dB Microphone
Output: 1 Channel Line output(3.5mm phone jack) & built-in speaker(8Ω1W)
P/T
Pan:355°, Tilt:120°
Network
Socket: RJ-45 10/100Mb self-adaptable Ethernet slot
Network Protocol: TCP/IP, HTTP, TCP, UDP, SMTP, FTP, DHCP, DNS, DDNS, NTP, UPnP, P2P
WIFI: WIFI 802.11 b/g/n
IP address: dynamic IP and static IP address
Supports 10 online visitors viewing simutaneously
Other
Power Comsumption: DC5±0.3V, 2A
Temperature: -14~122 °F
Humidity: 95%RH
Alarm
Motion Detection: Support motion detection/one channel input trigger
Alarm detecton 2: External trigger input action: connected / disconnected
External trigger input action: closed / disconnected
Alarm Action 1: Alarm output, action: high / low
Alarm Action 2: snapshot and email
Linkage alarm: Support up to 64 wireless alarm sensors, support one key arming and disarming.
Certification
Certificate: ISO FCC CE RoHS