| | |
| --- | --- |
| ALARMS THAT CAN AND WILL SAVE YOUR LIFE WHEN AN EMERGENCY COMES ALONG! | |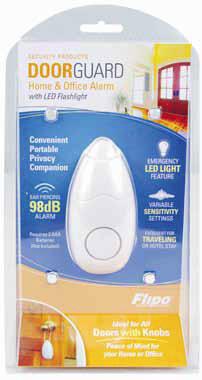 The DOOR GUARD ALARM
A very versatile vibration alarm. Ideal for home, office or travel. This alarm requires no installation, simply hang it on any doorknob and it instantly detects any vibration. When the alarm is tripped, it will emit a 98 dB alarm for 20-30 seconds, then will reset in 3-5 seconds. The sensitivity of the alarm is easily adjusted with a screwdriver.
The Door Guard can also be used as a flashlight. It is ideal for keeping you and your loved ones safe from harm whether in your
home or while you travel. Not sure about that shady looking hotel, but can't beat the price? Now you can feel confident and safe. Uses 2 AAA batteries (not included).
D4SHP-98DG: $19.95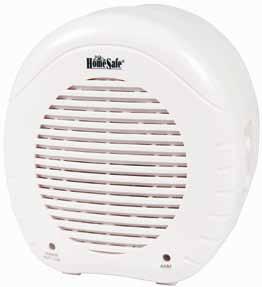 The multifunctional HOMESAFE® BARKING DOG ALARM
This system uses an electronic radar-wave sense control. This technology allows it to "see" through wood, cement, brick, glass, etc. When an intruder enters the 1000 triangle of protection, it automatically begins barking like an angry dog. From outside, it sounds like you have a very unfriendly dog inside. It also can announce visitors with a chime or alarm. The radar sensitivity is
adjustable from 10-20 feet. Volume is also adjustable. Stands 9
inches tall. Powered by AC power supply. Also takes 8 AA back-up batteries (not included) in case of power loss. Unit needs to face in the direction you want to detect motion. Detection is limited from the sides and rear. The included remote control lets you Arm and Disarm the system, as well as set off a Panic alarm.
D4SEWD-2: $99.95
Electronic Dog Repeller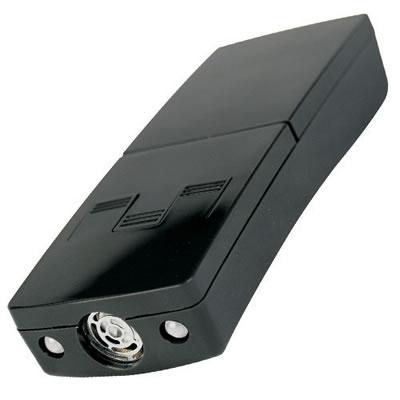 Using the latest ultrasonic technology, the SUPER DOGCHASER uses two ways to repel a dog. One is the discomforting but not harmful high frequency sound (20,000Hz - 25,000Hz), audible to dogs but not to humans. And, the second is a super bright LED flashing strobe that temporarily blinds and confuses the dog. Helps stop the approach of unwanted dogs up to 40 feet. Has a training setting to help you correct your dog's behavior. Can Also be used as a flashlight.
Features: • Dimensions: 4 3/4" x 1 3/4" x 3/4" • Requires one 9 volt battery (not included)
D4SDC-2: $24.99
Click on the picture of the item that you like most and be taken directly to that page
Also, take advantage of our Gift Certificates below! Click on the "Buy Gift Certificate" logo, choose the ammount that you would like to add and anytime within the next 18 months you can redeem it! Just another way Days For Safety wants to help keep you and your loved ones SAFE!