Safety Lights under $35.00 Products listed below are listed and according to category, from the lowest price to the highest price
Super bright 9 LED FLASHLIGHT
They can go anywhere with you. Red metal body with on/off switch and small strap at the base. 9 shock resistant LEDs. 3.75 inches long and 1 inch in diameter. Uses 3 AAA batteries (not included).
FL-9L $8.99

LED CELL PHONE FLASH-LITE
This handy super-bright go-anywhere LED CELL PHONE FLASH-LITE easily attaches to your cell phone ... and more! Great for Home, Office, Travel, Outdoor ... 6,000 hour lifetime of LED lights. Available in Black or Silver.
CELL-PH-LITE $9.99
CHOOSE THE COLOR YOU LIKE BEST FROM THE DROP DOWN MENU BELOW!
27 LED WORKLIGHT

Runs on 3 AAA batteries.
Has a magnet and hook for easy mounting.
Approx. Dimensions: 3⅞" x 2½" x 1½"
WKLT-27LED: $10.00
PET BLINKIES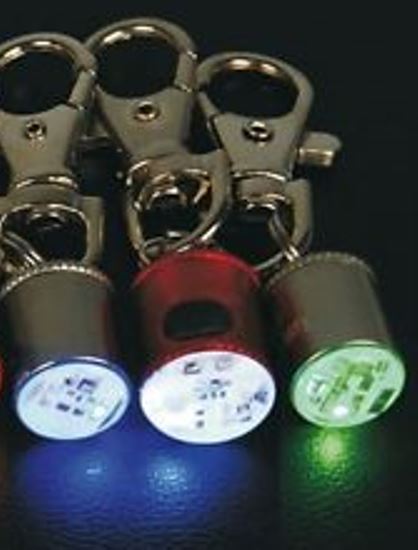 Vibrant, multi- color lights that attach easily to a collar, leash or harness. Pet Blinkies are waterproof and visible up to 1/2 mile away. Available in
3 blinking, vibrant colors:
Blue/White

Pink/Jade

Red/White/Blue
PETBLIN $13.99
12-Pack Replacement Batteries

PETAG-3 $10.99

CHOOSE THE COLOR YOU WOULD LIKE FROM THE DROP DOWN MENU BELOW THERE IS ALSO AN OPTION FOR THE REPLACEMENT BATTERIES
Extra bright, high intensity
7 FUNCTION LED LIGHTS
The seven functions have different flashing patterns. Includes heavy duty PVC bike mount, arm or wrist strap and belt clip. Can be worn like a pager. A must for every biker, jogger, child or stranded motorist.
Uses two AA batteries (included).
LLGT5010R $12.99
The 4 in 1 AUTO EMERGENCY TOOL

Clearly a lifesaver! With 4 emergency functions in one, this car emergency tool is the most versatile on the market. The super bright flashlight can be used at night in any situation. The blinking emergency light activates automatically upon removal from its base. If trapped inside a car, use the unit as a hammer to break the window for escape or use the blade to cut the seat belt. A snap-on base allows for fast removal in any emergency while the magnetic head keeps the unit handy when working on the car. The housing is water resistant. Easy installation requires no tools.
Includes: Super Bright Flashlight, Blinking Emergency Light, Window Escape
Hammer and Seat Belt Cutter. Takes 2 AA batteries (not included)
7 inches long

Q1014: $19.95
Bicycle Headlight

Bicycle Headlight includes an easy to use handlebar mounting bracket that allows for convenient quick release when not in use. Can also be used as a flashlight. Super Bright White LED's Requires 3 AAA Batteries (included).
D4S F-SH-211: $19.00
Bicycle Micro Lights

These BIKE SAFETY LIGHTS are a safe and convenient way to illuminate your bike. These lights are visible at distances up to a mile. Convenient rubber strap that attaches to any bike. Long lasting LED rated at 100,000 hours of use. Micro Bike Lights have a rubber strap and curved inner surface that allows the lights to be securely attached to your seat post, handlebars or bike frame.Front and Rear Safety Lights have 2 settings; Steady and Flashing. Requires 2 CR2032 Replaceable Lithium Batteries (included).
D4SF-SH-213: $18.50