Choose The IP Camera or Dummy Camera That's Right For Your Needs
220x Day/Night Zoom Camera
This color Day/Night zoom camera automatically switches from color to black & white in low-light conditions. Uses Super Sony HAD design to remove electronic holes which reduces noise level. Unique digital slow shutter to allow more light which creates better viewing in low-light conditions. Can be controlled via buttons on camera back. Great for use with our outdoor infrared illuminator. Unbelievable picture, highest quality!
Specifications:
Image Sensor: 1/4" Sony Color CCD

Resolution: 480 TV Lines

Min. Illumination: .01 Lux, Lens: 220x zoom, Power Required: 12V

Includes:

12 Volt Power Supply
PC-220WC-DN

$504.00
HD weatherproof bullet camera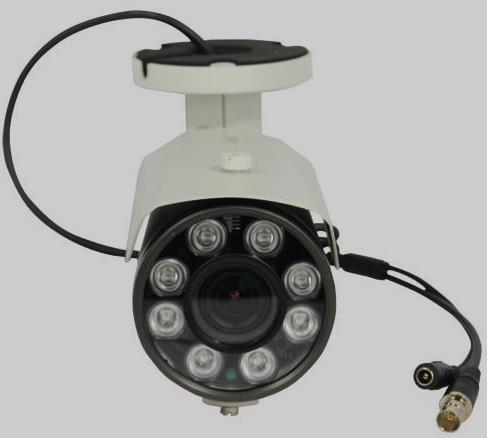 The IntelliSpy BC-HD135-DN is a full HD weather proof bullet camera with 135 feet of night vision and 3G-SDI technology. The 3G SDI technology gives you crystal clear picture. Analog cameras are blurry and grainy, with an analog camera it is hard to recognize facial features. With the 3G SDI you get no trailing when an object is moving fast in the field of view. This HD 3GSDI camera makes license plate numbers visible and allow you to see the face of an intruder. It uses coax/RG59 cable. It also has Smart IR and WDR technology which many analog cameras don't use. Smart IR prevent too much IR exposure. When there is too much IR exposure close objects can be washed out and blurry. The Smart IR function allows the IR strength to adjust to the environment which
renders a clear IR image.
The WDR technology allows the camera to automatically adjust to the ambient lighting which will give you the clearest HD image.
The IntelliSpy BC-HD135-DN camera is great for indoor or outdoor applications.
Comes with a 3.6-16mm varifocal lens and has a heavy duty mounting bracket & a hidden cable design
so it mounts easily to ceilings or walls.
This camera will ONLY work with HD DVR's.
Features and Specifications
Weatherproof IR Camera IP65 rating
Full HD 1920 x 1080 Resolution
OSD Menu Control Button Built-in the Cable
8 pcs IR 135 foot range
3.6 - 16mm varifocal lens
3G SDI
WDR
DNR
Defog
Heavy duty housing Suitable for
Wall & Ceiling installation
Digital Video Output BNC Connector
Dimensions 9.1" x 8.2" x 4.6"
D4SBC-HD135-DN: $206.96
INDOOR MOTION DETECTING DUMMY CAMERA
The indoor motion detecting
dummy camera deters any intruder
without the expense of a real surveillance
camera. It features a built in motion detector.
The dummy camera will remain still until
someone passes by, then it will move back
and forth and a red light will flash. It has
a realistic appearance and comes with
mounting bracket.
Requires 3 AAA batteries not included.
Specifications: Measures 5" x 2" x 2"
D4SDM-IDCAM: $19.95
HD 960P Sony IR Cut

IP Bullet Security Camera
For More detail on the specs and a better view of this camera click the picture below


This is a professional grade HD IP bullet network 960P/720P security camera.
This 1/3" SONY 1.3 Megapixel Camera has a
(Complementary metal-oxide semiconductor) CMOS Sensor. It allows for 960P (1280 x 960) @ 30 fps and has a 2 megapixel HD lens with IR-CUT. The 2.8mm - 12mm manual varifocal lens has 42 Ifrared LEDs for up to 130 Feet Of nighttime protection. It is weatherproof, which makes it optimal for both outdoors or indoors.
D4S229860707: $109.95
Vandal-Resistant IR Day/Night

High Resolution Color Dome Camera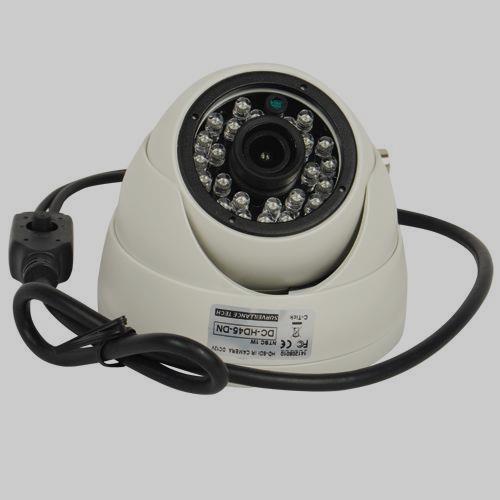 Protection in almost any environment!
This Vandal-Resistent IR Day/Night Color Dome Camera is protected against nearly any kind of weather or attack by a tough, all-metal enclosure.
It features a Sony 1/3" CCD chip for superior picture quality under almost any lighting conditions, with 36 IR LEDs for illumination.
The camera is fully adjustable;
it manually rotates 360° and has a manual tilt of approximately
10° to 120°.
This dome camera has the highest IP (Ingress Protection) rating.
A rating given to electronics as it relates to the amount of sealing they have against the entry of solid and liquid objects.
It's IP66 rating means "dust tight; complete protection against contact" and "protection against heavy seas or powerful jets of water".

Specifications
Resolution: 540 TV Lines

Min. Illumination: 0.2 Lux

Lens: Image Sensor: 1/3" Sony 4--9mm Manual Zoom/F2.0

IRs: 36 pieces

Illumination Distance: 80 feet, Auto Electronic Shutter (AES)

Auto Gain Control (AGC)

Auto White Balance

Power Required: 12V DC

Current Consumption: 300mA Max
DC-540WC-DN: $142.00
IR DUMMY CAMERA
WITH LED

This is a bullet style IR Dummy
Camera. It has a constant flashing red
LED light. It's realistic looking can be
mounted just about anywhere. It has an easy
adjusting bracket so it sets up in minutes.

The batteries are easy to change by just
sliding the sun shade off and inserting 2
AA batteries (AA Batteries Not Included).
Specifications: Measures 6 11/16" x 8
1/4" x 3 1/8"
D4SDM-IRCAM: $24.95