Hidden Cameras With DVR
DVR's feature motion activated and scheduled recording; motion detection area masking; time and date stamp; high, medium and low recording options; remote control operation and MPEG4 file format video output.
Electrical Outlet Hidden Camera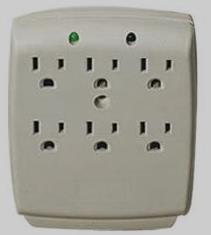 This DVR Color Camera comes with a built-In DVR and a FREE 8GB SD-CARD.
Does not function as an electrical outlet.
HC-OUTLT-DVR: $453.00
Wall Clock Hidden Camera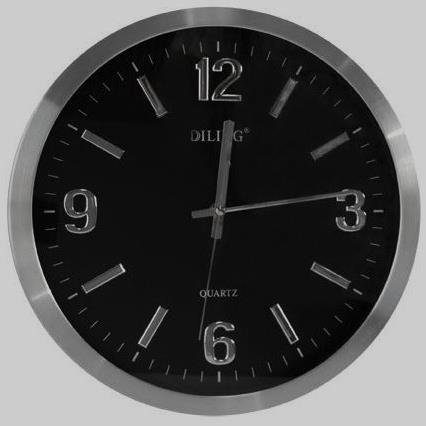 This DVR Color Camera comes with a built-In DVR and a FREE 8GB SD-CARD.
Wall Clock is fully functional.
HC-WALLC1-DVR: $471.00
Tower Fan Hidden Camera
This DVR Color Camera comes with a built-In DVR and a FREE 8GB SD-CARD.
Fan is fully functional.
HC-WNDTN-DVR: $487.00
Color Wired Sprinkler
Hidden Camera

Keep an eye on your office, warehouse, employees...can even be used to monitor your home or workshop. The hardwired sprinkler hidden camera offers the ultimate in covert surveillance because it can easily blend in it's environment. This is a down-view camera so it must be mounted to a ceiling use the included hardware. You will need to run power and video cables to this camera and connect it to a DVR for recording. Any of the DVRs we carry will work with this camera and we also have cables, connectors and signal boosters.
Includes: power adapter and user guide.
HC-SPRNK-WC: $85.00
Hidden Camera Clock Radio with Recording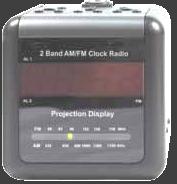 Fully Functional Alarm Clock with Time Projection Display & Built-In Hidden DVR Camera. No one will ever be able to detect this hidden camera disguised to look like a regular and fully functional clock radio. The Hidden Camera Clock Radio & DVR features motion activated recording that begins recording when motion is detected. With motion-activation you will never have to fast forward through hours of useless footage looking for the action. View Recorded Video on any PC or Monitor by easily connect to your TV using a RCA cable or remove the SD card and play on your PC.
Features:
Capture hidden camera footage

Fully functional radio and clock radio

Motion activated recording captures all the action

High resolution 480 TV Line camera for clear video

No additional software needed to view videos on your PC

Remote control operated

Time projector displays time
Includes:
Alarm Clock Hidden DVR Camera

User Manual

RCA cable to connect to a TV

Remote Control

2 AAA Batteries


8 GB SD Card(Supports up to 32 GB SD Card)
HC-ALC32-DVR: $527.00

Smoke Detector DVR
Hidden Camera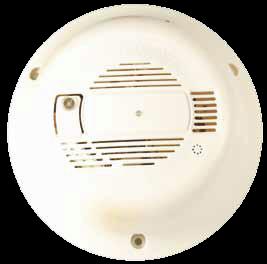 Every house, apartment and business should have a smoke detector (or two). The Hidden Camera Smoke Detector/DVR Combination is a perfect solution for covert video surveillance. No wires to run, or tricky transmitters to deal with; just high-quality all-inclusive recording. Monitor cash registers, record office personnel, or monitor who comes and goes through the door. Mounts on ceilings or walls in minutes and can be moved to different locations quickly and easily.
Features:
Fully Functional Smoke Detector
High Quality Color 1/3" SONY CCD Camera
SD Card Memory Support 8 GB SD card included (supports up to 32 GB SD card)
Remote Control for "one touch" operation
Motion Activation
No Additional Software Required
Video Resolution: 520 TV Lines
Minimal Illumination: 0.1 LUX (Low Light)
Power Supply: DC 12 V, Requires AC Connection - Adapter Included
Includes:
Smoke Detector
User Manual
8 GB SD Card
Remote Control
2 AAA batteries
RCA Cable for testing
HC-DNVSM-DVR: $503.00
Air Purifier Hidden Camera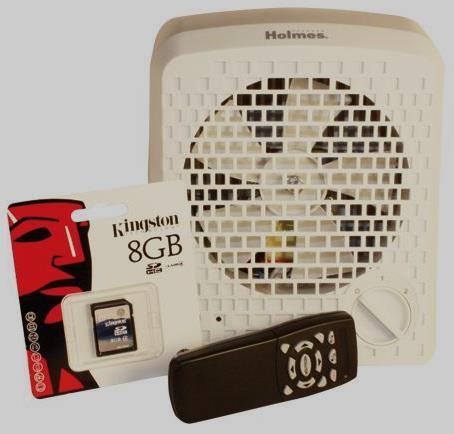 FREE 8GB SD-CARD Included
Air purifier is fully functional.
Dimensions: 8" x 8.5" x 4.5"
DVR Color CameraWith Built-In DVR
HC-ARPUR $471.00
Exit Sign Hidden Camera

This DVR Color Camera comes with a built-In DVR and a FREE 8GB SD-CARD.
HC-EXITS- DVR: $471.00
Air Freshener Hidden Camera

This DVR Color Camera comes with a built-In DVR and a FREE 8GB SD-CARD.
Does not function as an Air Freshener.
Dimensions: 5.25" x 6.5" x 3"
HC-ARFSH-DVR: $471.00
HIGH END HIDDEN
CAMERA SUNGLASSES
High End Hidden Camera Sunglasses Perfect for outdoor activities.These sunglasses have a unique design. They are slim, light weight, and comfortable to wear because of the soft nose pads and arms. The higher curve and flexible design suites many different faces weather they are small or large. They are very durable made with high quality materials. The frame is also Sweat Resistant designed to withstand extreme weather conditions, moisture from perspiration or wet weather.The lenses are1.8mm Quality Polarized Lens exceeds optical requirements of
ANSI Z80.3 standards and blocks out 100% of all UVA, UVA, UVC and harmful blue light up to 400nm protection. Lenses are shatter-proof and impact resistant tough material - fully certified for eye protection. These lenses meet AS/NZS 1067, EN 1836, ANSI Z80.3 standards for optical and mechanical performance. Enough about the shades already they have a hidden camera built into the glasses. This is the world's finest hidden video camera sunglasses full HD (1280*720P). Built in TV out so all you have to do is plug in a cable to the glasses and TV and share your videos with friends and family anytime. Excellent audio recording and HD video make these the glasses great for just about any activity. The battery will last almost 2 hours before needing to be recharged. Comes with a 16GB SD card and will store over 2 hours of video footage. Oh and they operate very easily with only 1 button operation. Press once the turn on and the camera will start recording. Press the button again to save the file and turn off. Comes with the Sunglass color camera, Carrying Case, Cleaning Cloth, Carry Bag, Neck Strap, USB/TV out cable, user manual.
HC-SUNGL-DVR: $199.99
RECHARGEABLE FLASHLIGHT CAMCORDER WITH IR NIGHT VISION AND 2" LCD SCREEN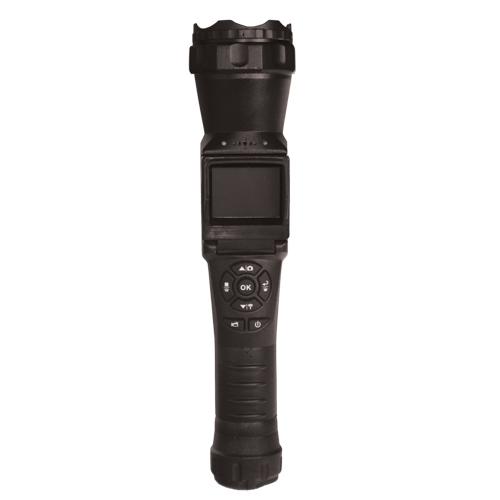 This is the new rechargeable flashlight camcorder with IR night vision and 2 inch LCD Screen. This is a tactical flashlight that has the ability to be used as a standard flashlight, video recorder, still camera, video camera with flashlight, and video camera with IR Led for night vision. It records to a micro SD card. It comes with an 8GB SD card and can support up to a 16GB micro SD card. The flashlight offers very clear video and still images durng the day time. When the white led standard flashlight is in use at night you can see objects about 100 feet away. With the high power IR led you can see objects in night vision about 100 feet away. The flashlight records video and audio at the same time. It can be used by police, military, security guards, and outdoor enthusiast. Use it for night investigations or just carry around as a personal security device. You are able to use the camera with the LCD screen on or off. You can play back footage on the LCD screen, PC, and TV. Video and images have a time date stamp.
Features:
2"LCD display

IR Led video record (For Night)

Flashlight (highlight white LED)

8GB SD card about 15 hours of record time

Visible distance : about 100 feet( For Night)

Battery about 10 hours recording

420 TVL Sony CCD 8mm camera

records in real time 30 fps

Video Compression H.264

Built in Microphone

USB 2.0 interface

High capacity lithium battery

battery time 2.5 hours

low battery detection

USB and RCA cables included for easy playback on PC or TV.
Includes:
Flashlight camera

2 batteries

battery charger

USB cable

AV cable

8GB SD card

User Manual.
D4SHC-FLCAM-DVR: $459.95