ALARMS UNDER $25.00

ALL ALARMS ARE PRICED FROM LOWEST AMOUNT UP!
MAGNETIC DOOR ALARM
This compact, attractive MAGNETIC DOOR ALARM uses magnetic affinity to initiate its 110 dB siren. The base of the alarm is attached to door or window frame, the actuator is attached to the window or door. The alarm is activated by opening the door or window. It's great for any door or window, particularly those hard to protect sliding glass doors.
Includes three lithium button cell batteries.
$ 7.95 EACH
CHOOSE EITHER:
White SLAW2200W or

Black SLAW2200B
from the drop down menu below
The NAP ALARM
For anyone who has ever felt drowsy while driving. Some of us have actually fallen asleep only to be awakened by the blaring horn of an oncoming car. Nap Alarm is an innovative, potentially lifesaving anti-drowsiness alarm. It is worn over the ear and has an electronic position sensor. When your head nods forward, it sounds a loud alarm to instantly wake you and alert your passengers. The Nap Alarm is not only designed for drivers, it is also perfect for people who need to be fully alert while on duty, for example, security guards, machine operators and even students while studying or where concentration is required. The Nap Alarm makes a perfect gift.
It Uses three AG13 alkaline button cell batteries (included).
NZ-1: $ 9.95
130db PERSONAL ALARM
Designed to draw attention to any crisis! This is as loud as eight 100- decibel alarms. The alarm is activated when the strap attached to the alarm pin is pulled and travels easily on your belt or in your purse. The Door Alarm accessory converts the Personal Alarm into a portable door or window alarm. Great for home, hotel rooms, college dorms, etc.
Requires one 9-volt battery (not included).
PAL-1 $9.95
MACE® SCREECHER AEROSOL ALARM
The SCREECHER emits an "ear-piercing" blast readily recognized as an emergency call for help. Its high-pitched shriek can be heard up to ¼ mile away. It's the convenient size for pocket or purse. The 10 gram unit has a push-top activator and contains approximately 30 short blasts.
D4S80145 $15.95
The MINI PERSONAL ALARM with CLIP

It has a very sleek and compact design, but don't let its small stature fool you. This easily activated alarm will emit an ear piercing 101dB alert that will send your aggressor fleeing for the confines of a sound proof room. You can deactivate this alarm just as easily as you activated it, with the click of a perfectly located button. This alarm fits easily in your pocket, purse, can be clipped onto your belt, or attached to a key chain. Anyway you chose to carry it, it will be nothing but beneficial to your safety.
Uses three AG13 batteries (included).

PAL-101CL: $ 9.95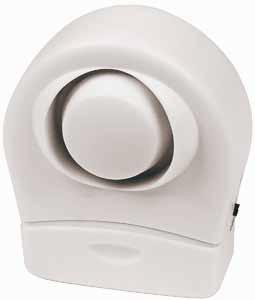 The GLASS BREAKAGE ALARM
An effective low cost vibration alarm that can be used for securing windows or doors. The glass alarm can also be used as a personal property alarm to protect computers, TVs, stereos,
cabinets, etc. Includes one 12 volt battery and strong adhesive tape. Turn the switch on the side to the ON position. When
the glass is hit, knocked or broken by anyone or anything, the siren will sound for approximately 30 seconds and before it shuts
off and resets. 2 inches tall.
HP-GLASS: $9.95
KEYCHAIN ALARM WITH LIGHT
It combines the two best deterrents against attack: a 130dB alarm and a flashing light. The alarm is activated when the pin attached to the keychain is pulled or by pressing the alarm button on the top of the unit. It can also be used as a flashlight without activating the alarm to provide additional night time safety.
Two AAA batteries included.
PAL-130L $10.00
2 IN 1 PERSONAL/DOOR ALARM Bottom of Form
It acts as a burglar alarm and a personal alarm. Hang it on any door knob (non-metallic doors) and it instantly and automatically sounds when an intruder touches the door knob. Carry it with you and just pull out the metal chain to sound the alarm and deter an assailant. The alarm is 120dB.
Requires one 9-volt battery.
AL-2: $ 10.95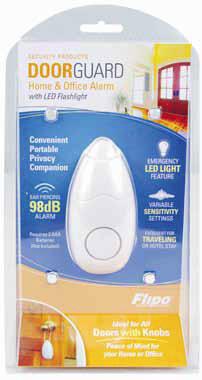 The DOOR GUARD ALARM
A very versatile vibration alarm. Ideal for home, office or travel. This alarm requires no installation, simply hang it on any doorknob and it instantly detects any vibration. When the alarm is tripped, it will emit a 98 dB alarm for 20-30 seconds, then will reset in 3-5 seconds. The sensitivity of the alarm is easily adjusted with a screwdriver.
The Door Guard can also be used as a flashlight. It is ideal for keeping you and your loved ones safe from harm whether in your
home or while you travel. Not sure about that shady looking hotel, but can't beat the price? Now you can feel confident and safe. Uses 2 AAA batteries (not included).
HP-98DG: $12.99
The MINI TRAVEL ALARM WITH PIR SENSOR
This is an effective low cost motion alarm that can be used to effectively to deter an assailant. It can be activated by just pulling the alarm cord located at the top of the unit or can detect motion up to 9 feet away. Emits a loud 15 second, 100dB blast making an impending criminal cower and run. Just slide the cover down exposing the infrared sensor and the off/auto switch. Turn the switch to auto, and the sensor will start detecting motion in 60 seconds. Contains an LED flashlight, and its convienent size makes it perfect for concealing and traveling.
PAL-100TR: $ 14.95 USD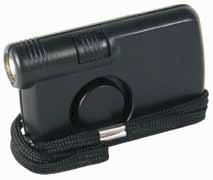 PERSONAL ALARM WITH FLASHLIGHT

The sleek, slim design of this PERSONAL ALARM WITH FLASHLIGHT fits easily into small hands, purses and even a pocket. Dimensions: 3.5" x 2.5" x 0.5" inches. The activation pin is connected to a wrist strap and when the pin is removed the alarm sounds at an ear piercing 130dB. The alarm is also equipped with a flashlight, useful for dark parking lots or when entering a dark building. Perfect for real estate agents, night-shift employees and even children! It uses two AAA batteries (included).

PL-6 $15.00
SUPER DOOR STOP ALARM
This Super Door Stop Alarm is an entry alarm and to block a door from being opened. If anyone tries to open the door, this 120dB alarm will sound. Alarm stops when pressure is released from door stop plate. There is also a movement sensor with adjustable sensitivity that will activate the alarm if it's tampered with. On/off switch is on the back of the alarm and includes a low battery indicator light.
Uses one 9-volt battery (not included).
DSAL-2: $15.00
ELECTRONIC POCKET WHISTLE
You don't even have to blow this compact electronic pocket whistle, just push a button. It emits a loud 120dB whistle for as long as you push the button.
It is 4 inches long: Uses 4 LR44 batteries (Included).
Useful in various situations such as:
sporting events

a locator in emergencies

(earthquakes, collapsed blds.)

referee whistle

traffic use for police

military training

dog handling

a safety alarm for crime prevention.
HP-388: $15.95
MINI ALERT ALARM
This Alarm uses passive infrared technology to protect a room from intruders. Producing an infrared triangle, the Mini Alert creates an unseen barrier that's impossible to penetrate without setting off the alarm! The Mini Alert is Battery operated, so it needs no wiring and can be easily moved to a new location. Mounting bracket included.
It requires three AA batteries.

MINI2040: $15.95
Electronic Dog Repeller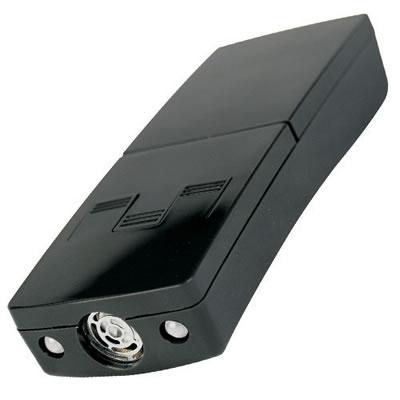 Using the latest ultrasonic technology, the SUPER DOGCHASER uses two ways to repel a dog. One is the discomforting but not harmful high frequency sound (20,000Hz - 25,000Hz), audible to dogs but not to humans. And, the second is a super bright LED flashing strobe that temporarily blinds and confuses the dog. Helps stop the approach of unwanted dogs up to 40 feet. Has a training setting to help you correct your dog's behavior. Can Also be used as a flashlight.
Features: • Dimensions: 4 3/4" x 1 3/4" x 3/4" • Requires one 9 volt battery (not included)
DC-2: $24.99
MACE® 3 IN 1 SPORT STROBE

To activate alarm, remove pin from the top of the unit to emit a 116dB blast and flashing light. Small button on side of unit allows strobe light to be used as a flashlight. FREE attachment allows Sport Strobe to be used as a door or window alarm. 9-volt battery not included.

80238: $19.95